Periods of crisis turn established business models on their head, creating endless economic opportunities. However, as far as trademark registrations are concerned, the recent health crisis has led to an unparalleled increase in registrations a far cry from the norm in previous periods of global financial downturn.
According to World Intellectual Property Organization (WIPO), trademark-filing activity boomed in 2020, which undoubtedly represents a resistance to these times of uncertainty and difficulty. Life is for the brave and entrepreneurship in this environment of constant creation of new goods and services seems to accompany this new stream of trademark registrations.
An estimated 13.4 million trademark applications covering 17.2 million classes were filed worldwide in 2020. The number of classes specified in applications grew by a remarkable 13.7% in 2020 (together with patents and designs applications by 1.6% and 2%, respectively, according to the WIPO, which compiles new data from some 150 national and regional authorities) marking an eleventh successive year of growth. Indeed, this strong increase across all intellectual property filings contrasts with the financial crisis of 2008, when filings were sharply down.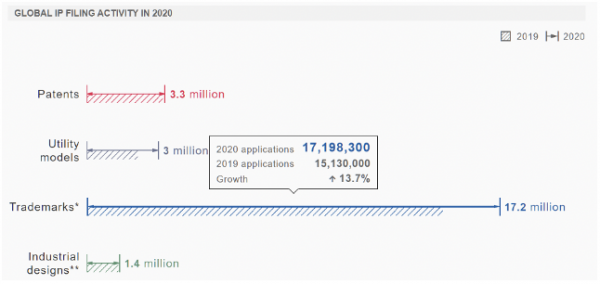 Source: WIPO Statistics Database, November 2021
The latest report from the Geneva-based intellectual property body shows that, despite the onset and continuing impact of the COVID-19 pandemic, companies have continued to offer new products and services, and to apply for the registration of corresponding trademarks. About this particularly strong growth in trademark filings in 2020, Mr. Tang (WIPO General Director) said: "This shows how enterprises across the globe have brought new products and services to the market, as reflected by the double-digit growth in trademarks filing activity in 2020 despite the massive economic shock. Despite the difficult situation, enterprises are finding opportunities to reach customers in new ways, open up new markets and bring their ideas to the world using IP."
But, what are the reasons behind this unprecedented change? In our opinion, the following three circumstances have played a major role:
Asia filings have risen above expectations. The increase in total trademark filings worldwide is primarily due to the sheer volume of trademark applications filed in China. For instance, in 2020, the IP office of China alone accounted for 73.1 percent of the annual increase in global trademark filings (measured in application class counts), followed by increases in the U.S. (9.6 percent), Russia (4.4 percent), Iran (4.2 percent), and Turkey (3.9 percent). Challenges remain, as counterfeiters and infringers are getting increasingly sophisticated, together with the fact that offenders often take advantage of procedural loopholes and proactively seek to invalidate legitimate third parties' IP rights. However, China has made strides in recent years to improve IP protection as the government seeks to spur domestic Chinese innovation and improve the business environment for investment, and that includes revising its IP laws and establishing a new national IP appeals court as a watchdog and criteria unifying body.
Increasing trend towards innovation and creativity. Innovation has played a key role in the fight against the pandemic and its consequences. Enterprises are finding opportunities to reach customers in new ways, open up new markets and bring their ideas to the world using IP, creating new realities and challenges for trade in products and services as we know it today. Let's see what happens with augmented reality and the opportunities it offers.
Last but not least, the strength of IP enforcement meaning, of course, that companies have been increasingly reliant on intellectual property tools to expand their enterprises and seek new growth. This is due to a greater understanding and confidence about the capabilities and strengths of protecting companies' assets through their intellectual property rights. Although companies' first reactions to the COVID-19 pandemic was that they could best protect themselves by standing still, they appear to have quickly recognised that they could protect themselves more robustly by growing their portfolio of rights and registrations.
Be that as it may, at BAYLOS we are sure and are very clear that it is not a question of quantity of trademarks, but of quality, and this is why we always recommend our client to assess their needs, to carry out all the necessary trademark clearance searches and draw up custom strategies that really fit the company and business in question.